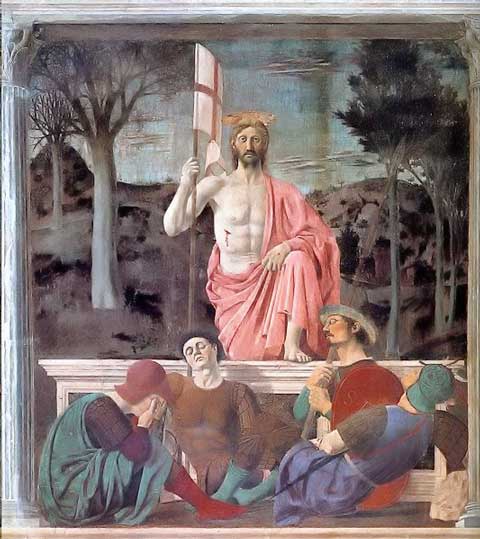 Wikipedia.
…the visitor who now enters the Palazzo dei Conservatori at Borgo San Sepolcro finds the stupendous "Resurrection" almost as Piero della Francesca left it. …it stands there before us in entire and actual splendour, the greatest picture in the world.
—-Aldous Huxley, Along the Road, 1925
I had never heard of The Resurrection until a couple of weeks ago. But both The World's Greatest Paintings and The Private Life of a Masterpiece: Renaissance Masterpieces included it in their discussions. Even though I enjoyed learning why it's supposed to be such a great painting, it still doesn't move me. But the story about how Huxley's words saved the painting and the town during World War II is another matter.
As the British army was fighting its way up Italy, an artillery officer named Anthony Clarke was told to shell Sansepolcro to make it safe for the soldiers to enter. He gave the order, but then remembered Huxley's description of Piero's fresco. He ordered his men to stop.
As it turned out the shelling hadn't been needed because the Germans had already left. So instead of the army court-martialing Clarke for disobeying an order, the townspeople honored him as a hero. The Via Anthony Clarke is still named after him.
This story reminds me of my excitement and wonder when I first learned to read — it seemed like magic. Huxley's words about a painting averted a tragedy almost 20 years later. If that doesn't show the magic of the written word, I don't know what does.
After the war Clarke owned a rare book store in South Africa and wrote 50 scholarly catalogs in the course of his career. He was clearly the quintessential book lover. That, too, warms my heart. Where I was raised people didn't think much of people who always had "their nose in a book." Clarke proved that book lovers can be useful too.
What about you? Are you a book lover? Has your life ever been changed by something another person has written?